Marine & Mobile Solar Overview
Save fuel and enjoy the silence...
Why choose solar power for marine & mobile applications?
Solar installations will save engine or generator run time and provide top-end charging, helping to maintain the longevity of your batteries & equipment.  OceanPlanet Energy can help you harvest this free and consistent energy.  We specialize in high output, light-weight, thin, marine-tested solar panels. OPE has been at the forefront of development in marine solar technologies and is excited to offer new lines and options that have advanced dramatically in recent years.  We can help you choose the best panels for your installation based on variables such as available space, location on the boat, weight, budget, shading, and personal preferences. If you want to determine how much solar is necessary to cover your loads, check out our LOAD CALCULTOR page.
We are proud to be partnered with the following marine solar panel manufacturers:
Question #1: Where will you be installing the panels?
Canvas
For canvas installations, we recommend Solbian SP or SR+ panels.  They are lightweight, semi-flexible and can be sewn through for secure installation in canvas biminis and dodgers.
On deck in a highly trafficked area.
Both Solbian Energy & Solara Solar make panels that can be walked on.  If you want the most durable or you want to install using fasteners, choose Solara. If you want to save weight or have a completely flush mount with no junction box, choose Solbian SP series. The SR+ can also be lightly walked on and installed with fasteners.  
On a curved cabin top or pilot house and it will not be walked on.
We would recommend Solbian panels in this case.  If you have a lot of space, then go with the SR+ series as they are less $/Watt.  If you want every bit of power possible, we recommend the SP series. These can be installed with fasteners or adhesive, with junction boxes or backside wiring.
Railing
Coastal Climate Control builds mounting frames and can provide clamps for Solara Power-M panels. Check out the EZ Mount Solution.
Radar arch
We recommend Solara panels for this type of installation.
It needs to be able to be deployed and stowed easily
Already know what you want?
Feeling overwhelmed by all this info? Learn the basics with BoatHowTo!
BoatHowTo is bringing you the most

reliable

 and 

accurate

 information about boat systems on the internet and OPE highly recommends learning the basics here.
The Advanced Course in now available! 

Click here

to get the Advance Course.
Other things to think about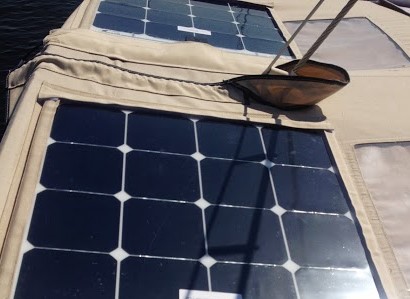 Shading
If any portion of a series string of cells is shaded, the current will drop and the output will be reduced from the entire string. The general rules for minimizing shading losses are; install one MPPT controller per panel; install multiple, smaller sized panels rather than a single large panel in a given space; and install longer panels fore and aft rather than athwartships.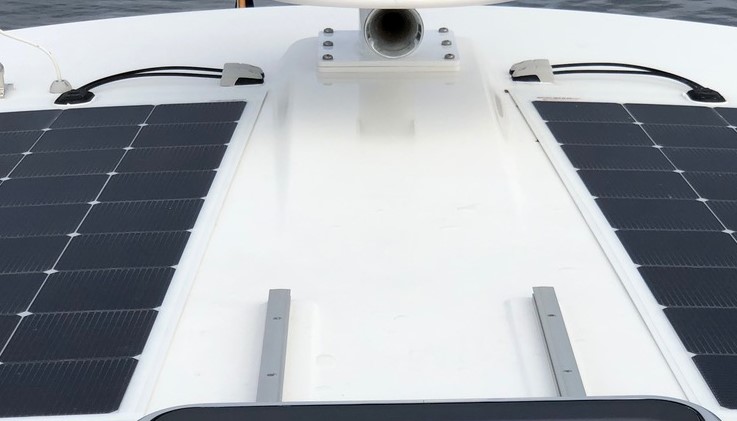 Wiring
It is important to think about how to route your wiring early in the design process.  Will you use backside wiring and drill holes? Will you need deck seals or plugs? Can you run them down the bimini support bows?  Check out our solar installation guide & accessories page for some options.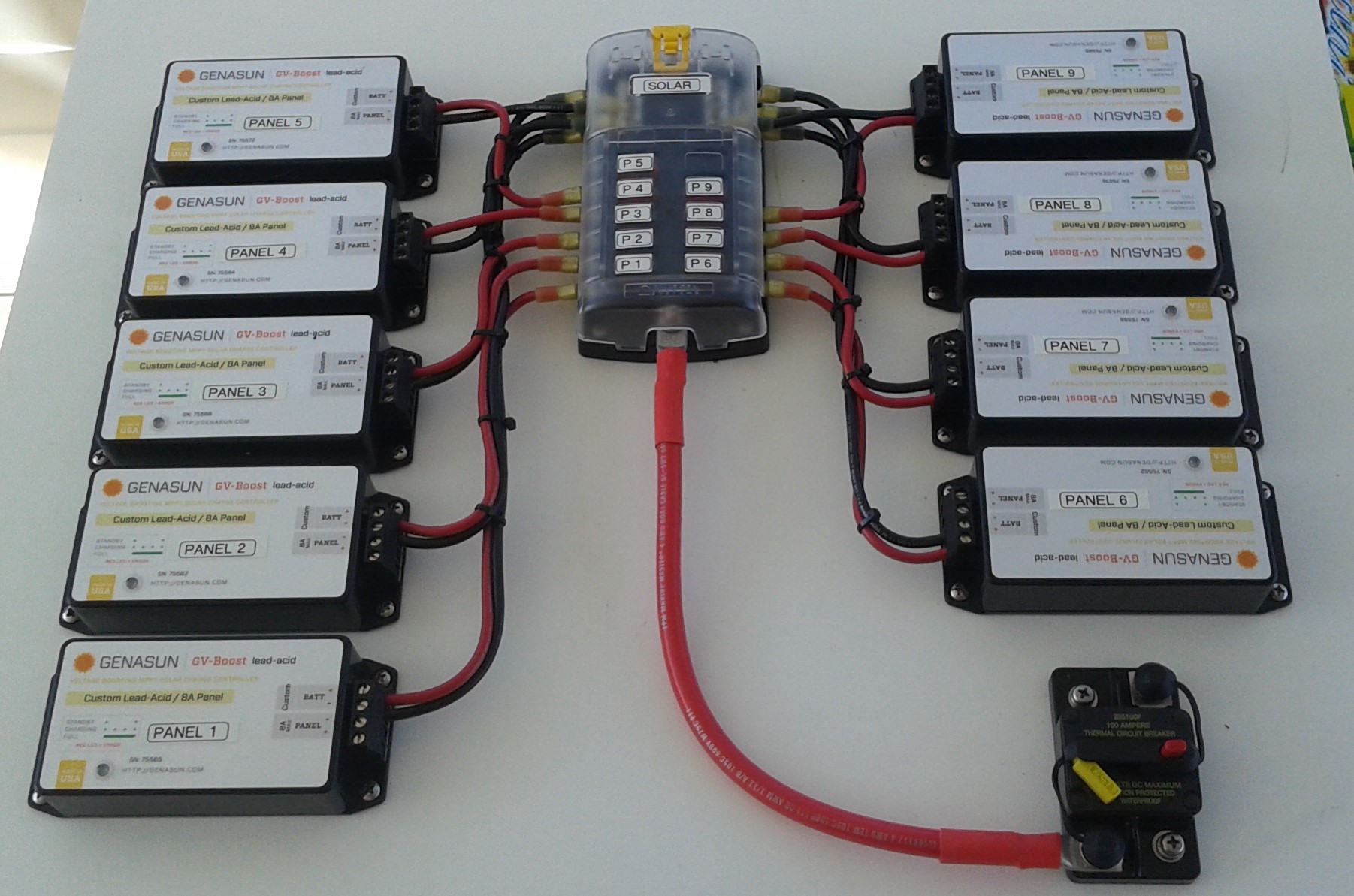 In addition to voltage and current ratings,  charge controllers also have varying attributes with respect to programmability, display options, efficiency, functionality and size that should be appropriately paired with the unique characteristics of the system and the user. More Info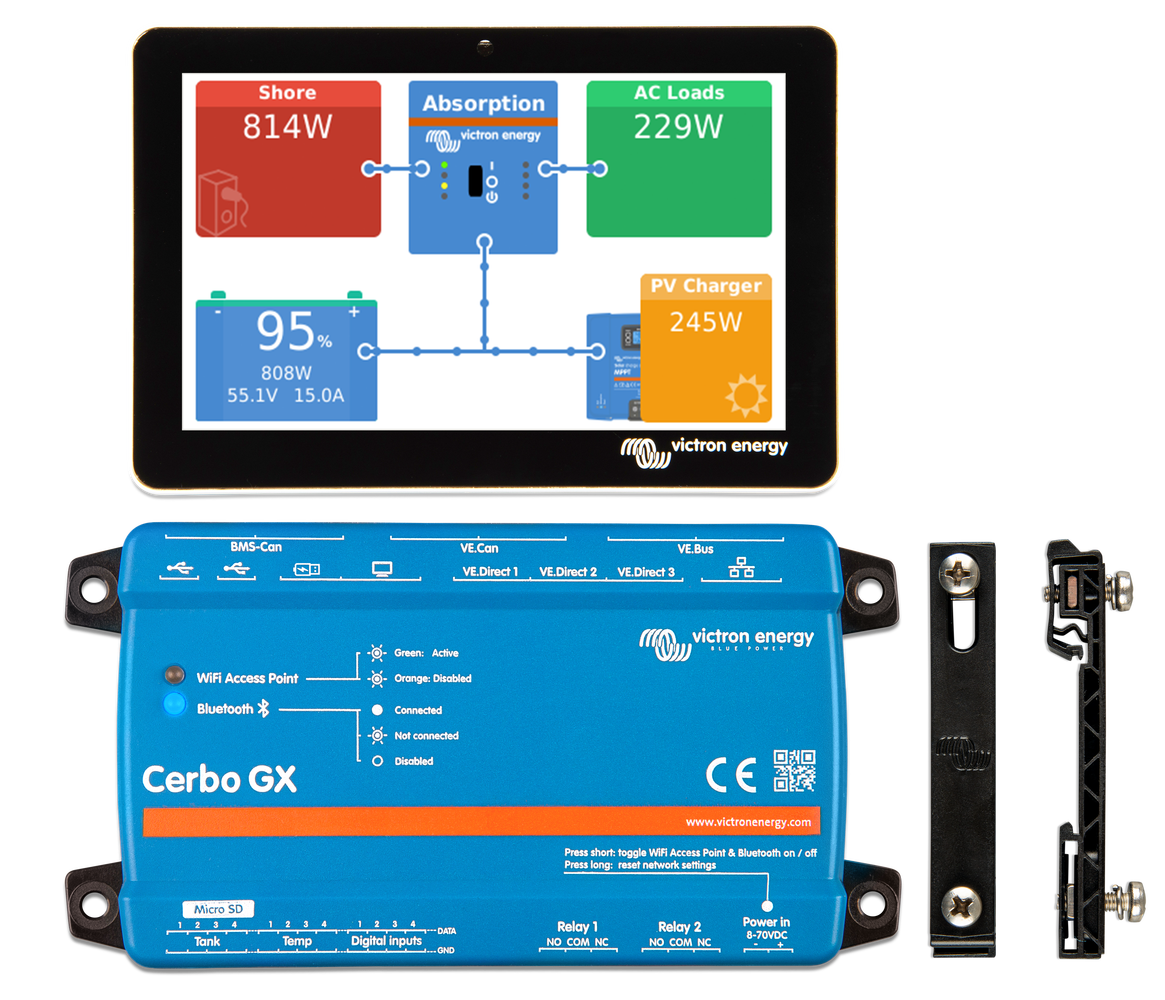 It can be helpful and exciting to monitor just how much power you are getting out of the sun at any given moment.  Some solar charge controllers have monitoring capability but if you want cumulative data or to integrate with other system monitoring, there are a few different products that are easy to install, affordable, and can provide the data you want. More Info
Interesting Facts & Frequently Asked Questions
Ready to design your system?