About Bruce Schwab, OceanPlanet Energy & the Team
Bruce Schwab-President & Founder
As an adolescent Bruce spent two years cruising with his father and brothers. Afterwards, settling in Northern California he led the Rigging Shop at Svendsens Marine from 1981 to 2000.  During this time he restored his 1930 30sq Meter "Rumbleseat" (now based in Tortola as "Diva").
After winning many crewed, double-handed, and solo sailing races, including the 1996 Singlehanded Transpac aboard Rumbleseat, he retired from Svendsens to oversee the design & building of the all-American Open 60 OceanPlanet. After completing his first circumnavigation in the 2002/2003 Around Alone Race, he came to Portland, Maine to refit OceanPlanet for the 2004/2005 Vendee Globe Race (solo, nonstop, around the world).
On February 25, 2005, Bruce became the first American in history to officially finish the Vendee Globe with a time of 109 days and 20 hours. Since then, Bruce has devoted himself to providing clients anywhere in the world with the best marine energy storage and charging systems through the business he developed in Bath, ME OceanPlanet Energy.  Now living in the mid-coast town of Woolwich, Maine, Bruce is an avid bicycle racer and regularly plays his collection of acoustic guitars. See Bruce's current big project at www.projectimprobable.com.
Learn more about Bruce's Vendee adventures here. 
Nigel Calder-Partner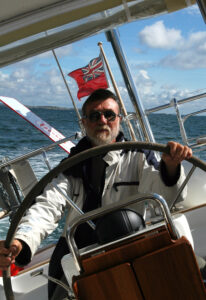 Nigel Calder got into motorcycles and sailing dinghies as a teenager, and has never been far from mechanical things and boats ever since.  In a varied career, before becoming a full-time sailing writer he worked on an automotive assembly line, in a foundry and machine shop, and on offshore oil production platforms.  He and his wife, Terrie, built a couple of 70-foot canal boats (on which they lived in Oxford, UK), and a 39-foot Ingrid cutter.  They then sailed a Pacific Seacraft 40 for 5 years, following which they had a Malo 45 built in Sweden. This was replaced by the same boat but with experimental electrical and propulsion systems. It was used by the European Union HYbrid MARine (HYMAR) project, of which Nigel was the Technical Director, for extensive testing of hybrid propulsion systems which, in recent years morphed into a multi-year development of advanced generator technology now sold under the Integrel brand name.
Nigel is a member of the American Boat and Yacht Council (ABYC) Electrical Project Technical Committee. Nigel is best known for his Boatowner's Mechanical and Electrical Manual, in its 4th edition, and his Marine Diesel Engines, in its 3rd edition.  In addition to over 300 magazine articles, he has also authored a 'Cruising Guide to the Northwest Caribbean', 'Cuba: A Cruising Guide', 'Nigel Calder's Cruising Handbook' and 'How to Read a Nautical Chart'.  He recently released a memoir of his family's first long cruise titled 'Shakedown Cruise'.
Nigel joined forces with OPE in 2019 to continue to advance the development and availability of marine energy systems that are suitable for the 'house' energy needs of a broad range of boatowners. A key element of his role will be a constant search for technical advances that will enable OPE to offer the absolute best that is available with existing and emerging technologies.
Julia Carleton-Operations Manager
Julia grew up spending summers in Camden, ME where she developed a love of the ocean & sailing.  In 2001, she earned her B.S. in Electrical Engineering then did a 3 year stint as an engineer before realizing she needed to spend more time on the water.  She left the office and spent the next decade teaching expedition based sailing and semesters at sea.
She joined the OPE Team in the fall of 2013.  She holds a USCG Master 500 GRT Oceans and an ABYC Electrical Certification.  She continues to get her sea time fix by teaching Outward Bound sailing courses & exploring the coast of Maine with her family.
Tom Whitehead – Sales & Consulting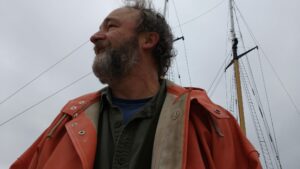 Tom learned to sail on the New Meadows River in Casco Bay.  After many years of travel, life in San Francisco, and a combined career as a musician, music educator, yacht commissioner and repair specialist; Tom returned to Maine with his family in 2002.
Tom has worked in multiple capacities at a number of boatyards in Maine over the years and OPE was lucky to acquire his diverse set of skills in the spring of 2016. Tom holds an ABYC Marine Electrical Certification.
When he is not working with OPE, he continues to share his talents as a musician (in multiple bands) and a music teacher.  He also spends as much time as he can on his 32' wooden schooner and pursues his interest in writing fiction and non-fiction.
Devin Trainor – Technical Sales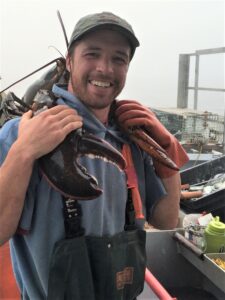 Devin grew up spending summers on an island in Maine where he started working on commercial fishing boats at the age of 16. He brings experience from 1400+ days at sea, commercial fishing in Maine, Alaska and crewing on traditionally rigged tall ships in the Caribbean. He has also lived on the West Coast and throughout the Rocky Mountains before the pull home to Maine beckoned him back in 2013.
He joined the OPE team in 2019 with a B.S. in Env. Sciences from Humboldt State University, and M.S. in Outdoor Education/Natural Resources from the University of Wyoming.  He holds a 100 ton USCG Master license of near coastal waters and an ABYC electrical certification.
In his free time Devin is an avid mountain biker, woodworker and enjoys spending time on the waters of Casco Bay in the 1982 Seaway cc runabout he rebuilt while living out on Vinalhaven.
Brady Kern – Partner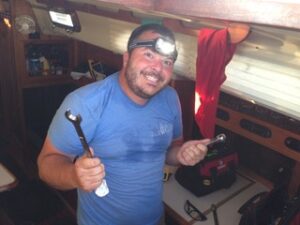 Brady learned to sail on Lake Michigan in 2011. Shortly after the purchase of an Ericson 35-2, he began a deep technical dive into sailboat repair and upgrade with a heavy focus on electrical system design and optimization. At the time his career focused on the design and support of cloud infrastructure for web hosting.  His decision to pursue his hobby and expand his marine electrical knowledge eventually led him to Portland, Maine in search of a new career in marine electrical design and new adventure cruising the amazing coast of Maine.
Brady is a graduate of The Landing School Marine Systems Program, he holds a USCG Master 25 GRT Inland and an ABYC Marine Systems Certification.
Serafina Carlucci- Bookkeeper & Distribution Manager
A veteran office worker, Serafina joined OPE in 2022 after many years of working with nonprofits.  She enjoys learning new tunes on her fiddle, birding, painting and sailing.  When not building a timber frame, straw bale house alongside her husband, Darin, she takes great pride in raising two thoughtful, adventurous children and sharing her love of the natural world with them.
Kevin Bassett- Technical Sales
Kevin's relationship with water and boats began at a young age, probably when his dad first handed him a fishing pole on the lakes of New Hampshire. With that grew a deep love for the natural world and ecology. He received a BS in Fisheries Biology at the University of Montana, and spent summers working with endangered salmon in Maine, Alaska, and Idaho.
Kevin moved back east to Maine in 2016. Since then he has explored many roles, including mushroom farming, oyster aquaculture, and as a boatyard tech. When he's not working, he's likely in his 1985 15 foot Hobie Power Skiff, chasing striped bass with a fly rod, camping on islands with friends, or foraging for mushrooms.