Firefly Oasis Battery – Carbon foam AGM – Group 31 & L15+
Firefly's award-winning, patented technology is an innovative material science that removes almost all limitations of current lead-acid battery products. Firefly discovered that much of the lead in the traditional grid structure of conventional batteries can be replaced with a totally new type of grid material, carbon foam. The main improvement of the carbon foam construction is that it resists sulfation and corrosion while dramatically increasing the surface area of the battery plates.
Firefly Oasis Highlights:
Unparalleled Resistance to Sulfation – Sulfation is what usually kills AGM batteries.  The Oasis carbon foam AGM can operate or be stored at a partial state of charge for long periods of time without a loss in capacity.  Check out this article by Professional Boatbuilder Magazine to learn more about sulfation.
Depths of  Discharge to 80%-100% of rated capacity without any loss of performance
Superior Life Cycle – capable of 3X the number of deep discharge cycles than that of other lead acid batteries
Strong Performance in Extreme Cold and Heat– performance range is -20° C to 50° C
Fast Bulk Charging and topping up is seldom required
Greater Usable Capacity– you can replace your existing bank with a smaller Oasis bank due to its deep discharge capability
Available in 2 Sizes:  G31 & L15+
Model #
Nom. V

Charge/Dis-charge ratings

Capacity @ 20Hr
Operating temp
Cycle Life
Size (in) Weight
Price

 

Oasis G31

12V

Max Charge I/V

250A @25°C/

14.4V

CCA 625A

MCA 800A

116Ah

-20°C to 50°C

(-4°F to 104°F)

50% DOD ~3600 cycles

80% DOD ~1000 cycles

13.5" x 6.7" x 9.4"

75lbs

$543

L15+

4V

Max Charge I/V

450A @25°C/

4.8V

450Ah

-20°C to 50°C

(-4°F to 104°F)

50% DOD ~4900 cycles

80% DOD ~1475 cycles

10.5" x 6.85" x 17.2"

94lbs

$779
2V
900Ah
Price Comparison of Oasis G31 vs. other similarly sized deep cycle batteries
How does this compare to other similar batteries?  Not only is the FFG31 priced similarly to other comparable deep cycle batteries, but it is rated to over 3 X the cycles of similar batteries.  So, for a true price comparison, it is best to compare the price in $/kWh over the entire lifetime of the battery.
The results:
Firefly G31: $0.17/kWh
Lifeline GPL 31T: $0.55/kWh
Northstar SPS Silver M110B:  $0.93/kWh
These calculations are based on 50% DOD and manufacturer ratings.
Firefly Group 31 Oasis Testing and Performance
In independent PSOC (Partial State Of Charge) testing of AGM batteries done by Rodd Collins of Compass Marine for Practical Sailor, the Firefly AGM was the only AGM to regain FULL capacity after 30 PSOC (one month) of cycle testing.  For a full description of the testing procedure, see:
For the test results summary, see:
Click on the following graph to see how Firefly performed after 30 cycles of "abuse" during the testing
While these batteries have proven their resilience over the past 8 years in multiple land-based applications, the first well-documented field test of these batteries in the marine environment was done in the summer of 2014 by Nigel Calder.  As a marine systems guru and author of the Boatowner's Mechanical and Electrical Manual, Nigel Calder's opinion is respected by boaters world wide.  Here is what he had to say about the Firefly Oasis:
Nigel Calder's Firefly Testimonial
Check out his recent comments and update after a winter of storage at 38% state of charge.  Nigel's Spring Commissioning update.
Watch the video from Pacific NW Boater who has had the batteries in service for four years now.
Curious about their charge characteristics?
Check out this test graph put together by the experts at Coastal Climate Control showing the difference in performance between Firefly and a slightly smaller sized, new, high-quality, marine AGM battery.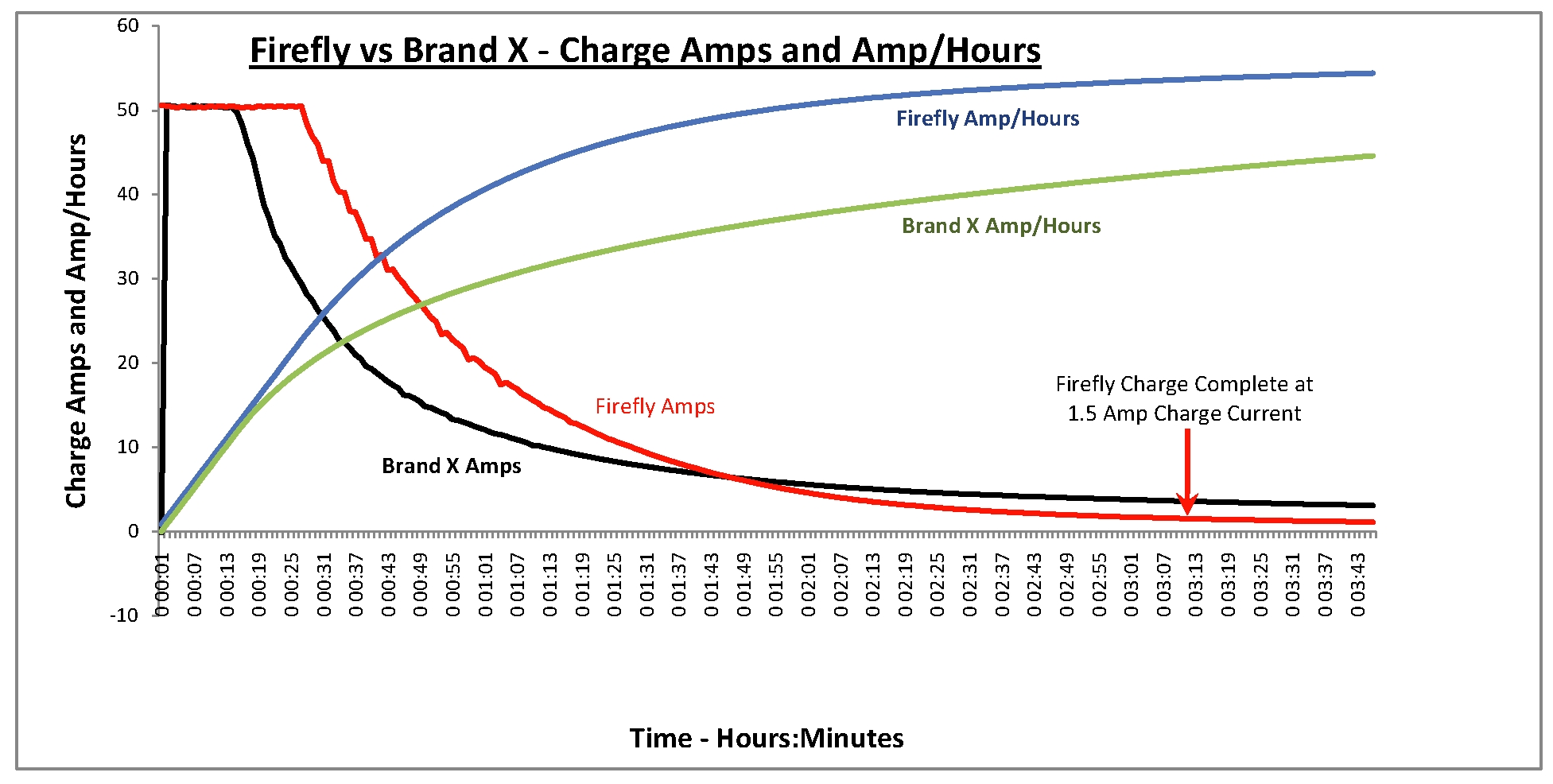 General Information on the Firefly Oasis & Pricing
Click here to see our regional dealers in North America
Firefly L15+ Battery Specifications
Test Performance Comparison with other Lead-acid Batteries
Firefly PSOC Partial State of Charge Sweet Spot
Firefly Users Manual G31 & L15+
You can get more information about Firefly Energy International at their website www.fireflyenergy.com.